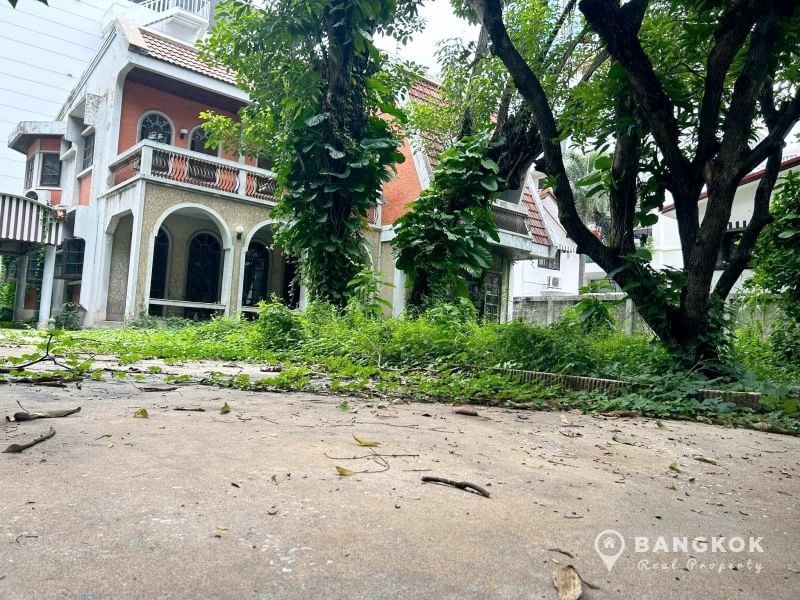 For Rent
Property Ref R-11269

เพลินจิต บ้านเดี่ยวหลังใหญ่เพื่อการพาณิชย์
บ้านเดี่ยวกว้างขวางพร้อมให้เช่าใจกลางย่านเพลินจิต เดินเพียง 15 นาทีจากสถานีรถไฟฟ้าเพลินจิต เหมาะแก่การเช่าระยะยาวเป็นร้านอาหารหรือเชิงพาณิชย์อื่นๆ
ตั้งอยู่ในทำเลใจกลางเมืองที่มีสถานทูต โรงแรม 5 ดาว และสำนักงานของบริษัทหลายแห่งอยู่ในระยะทางที่สามารถเดินถึงได้
ทรัพย์ตั้งอยู่บนพื้นที่ 2 ชั้นพร้อมพื้นที่ภายใน 400 ตร.ม. บนพื้นที่ 150 ตร.ว. พร้อมสวนขนาดใหญ่และที่จอดรถมากมาย
บ้านเช่าในสภาพปัจจุบัน แม้ว่าจะต้องได้รับการปรับปรุงใหม่ แต่โครงสร้างก็ดี มีเอกลัษณ์ มีศักยภาพมากใในการทำธุรกิจในทำเลใจกลางเมืองแห่งนี้
หมายเหตุ: บ้านให้เช่าเท่านั้น – ไม่ขาย
ค่าเช่า: ฿120,000 บาท ต่อเดือน
– สัญญาขั้นต่ำ 3 ปี+
– ให้เช่าตามสภาพปัจจุบัน
LINE ID: tombkkproperty
Mobile/WhatsApp: (+66) 089-412-0111
พูดภาษาไทยและอังกฤษ
———————————————-
This detached, spacious house is available to rent centrally located in Phloen Chit area and just 15 minutes walk from Phloen Chit BTS station. The property is suitable for long term, rental as a Restaurant or other Commercial use. Situated in a central location with many Embassies, 5 star hotels and corporate offices within walking distance.
The property is set over 2 floors with 400 sq.m of internal space and sits on a plot of 150 Sq.Wah (600 sq.m) with a large garden and alot of parking available. The house is rented in its current condition. Though in need of renovation, the structure is good and this characterful property offers much potential, in this central location.
Note: House for Rent only – Not for Sale.
Rent: ฿120,000 THB per month
Rental Terms
Minimum 3 year contract (36 Months or more)
The house is rented in its current condition
2 Months Security Deposit + 1 Month Advance Rent
For more information or to view this property Call Us /SMS /LINE/ WhatsApp at:
(+66) 089-412-0111 / (+66) 094-343-7994- 7 Days a Week !
** Note: Bangkok Real Property cannot guarantee the immediate availability of the properties on our website as the Bangkok market moves so rapidly. Please contact us for up-to-date availability of our listed properties.
| | |
| --- | --- |
| Property Ref. #: | R-11269 |
| Price: | ฿120,000 |
| BTS/MRT/ARL: | Phloen Chit BTS |
| Location: | Ratchadamri - Phloen Chit |
| Building Name: | Detached House |
| Developer: | Private House |
| Floor: | 2 Floors |
| Square Metre: | 400 |
| Land Sq.M: | 150 Sq.Wah (600 sq.m) |
| Bedrooms: | 4 |
| Bathrooms: | 4 |
| Parking: | many |
Features
Agent's note
Rental Terms
Minimum 3 year contract (36 Months or more)
The house is rented in its current condition
2 Months Security Deposit + 1 Month Advance Rent
Building Information
Local Amenities
Embassy of United States - 3 minutes walk (190 Metres)
All Season Place - 5 minutes walk (400 Metres)
The Conrad Bangkok Hotel - 8 minutes walk (550 Metres)
Delegation of the EU - 10 minutes walk (750 Metres)
The Athenee Hotel - 12 minutes walk (900 Metres)
Sindhorn Building Corporate Offices - 12 minutes walk (1 KM)
Embassy of Japan - 16 minutes walk (1.1 KM)
Central Embassy Mall - 18 minutes walk (1.3 KM)
Embassy of Switzerland - 20 minutes walk (1.4 KM)
Central Chitlom Mall - 20 minutes walk (1.5 KM)
Mercury Tower Corporate Offices - 6 minutes drive (1.7 KM)
The Sukhothai Bangkok Hotel - 8 minutes drive (2.2 KM)
The Banyan Tree Bangkok Hotel - 8 minutes drive (2.2 KM)
Central World Mall- 10 minutes drive (2.8 KM)
The PARQ Corporate Offices - 8 minutes drive (3.1 KM)
EmQuartier Mall - 18 minutes drive (6.3 KM)
Mater Dei School - 7 minutes drive (1.6 KM)
Chulalongkorn Public University - 15 minutes drive (4.4 KM)
Police General Hospital - 8 minutes drive (2.1 KM)
Bumrungrad International Hospital - 12 minutes drive (3.7 KM)
Polo Club RBSC - 12 minutes walk (850 Metres)
Royal Bangkok Sport Club - 11 minutes drive (3.2 KM)
Lumphini - Benchakitti Park Walkway - 10 minutes walk (700 Metres)
Benchakitti Forrest + Lake Park - 10 minutes walk (750 Metres)
Lumphini Park - 12 minutes walk (850 Metres)
Transport Links
BTS Phloen Chit (Green Line) - 15 minutes walk (1 KM)
MRT Lumphini (Blue Line) - 20 minutes walk (1.5 KM)
BTS Nana (Green Line) - 20 minutes walk (1.5 KM)
BTS Chit Lom (Green Line) - 6 minutes drive (1.6 KM)
Rama 4 Toll Plaza (Inbound) - 6 minutes drive (2.4 KM)
Rama 4 Toll Plaza (Outbound) - 6 minutes drive (2.6 KM)
Suvarnabhumi International Airport - 30 minutes drive (32.4 KM)
Don Mueang International Airport - 30 minutes drive (28 KM)